Heat methodically take down Magic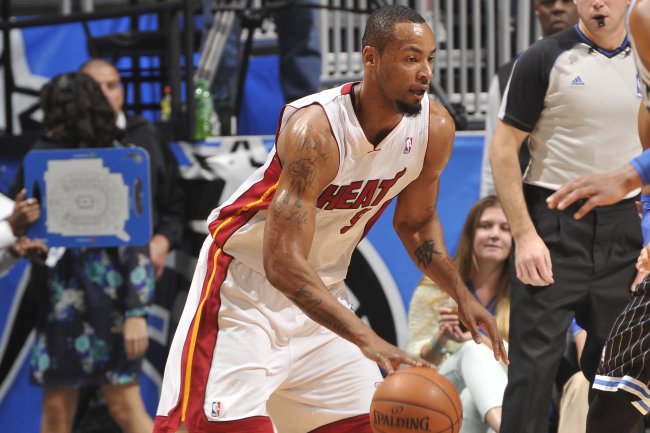 After the Magic were defeated, every player said somthing to this effect: To beat a team like the Miami Heat you have to be near perfect.
This is a team that finds a way to take advantage of seemingly every mistake and has the personnel on its roster to withstand even poor games from its best players. The Magic's best may not even be enough as the LeBron James has proven with a pair of game-winners in the recent matchups.
Certainly a grind-it-out game against Miami was not going to end in Orlando's favor.
The Magic played well, finding some room to generate offense in transition during those rare stops. They even held LeBron James to 5-for-13 shooting, just the 27th time in four years with the Heat shooting worse than 40 percent and just the second time this season.
It all was not enough. James still nearly flirted with a triple double with 15 points, eight rebounds and eight assists. Rashard Lewis got hot in the first half and finished with 18 points. Chris Bosh was a perfect nine for nine from the floor for 20 points. Dwyane Wade surprisingly played and added 20 of his own.
The Heat had guys step up and keyed a 15-0 run late in the third quarter. The Magic offense bounced back and competed, the defense just could not come up with the timely stops and the run was enough to give the Heat a 110-94 win at Amway Center on Saturday.
| | | | | | | |
| --- | --- | --- | --- | --- | --- | --- |
| | Score | Off. Rtg. | eFG% | O.Reb.% | TO% | FTR |
| Miami | 110 | 115.0 | 58.1 | 19.4 | 14.6 | 41.9 |
| Orlando | 94 | 99.4 | 46.3 | 26.7 | 15.0 | 30.0 |
Miami is just a team that truly leaves no margin for error.
"It's a very short margin for error, especially playing against them," Oladipo said. "They make you pay every time you make a mistake. We made a litle too many mistakes today. We just got to learn from it. It's a long season and we got to learn from it, especially on this road trip."
What were those mistakes?
Certainly the Heat made shots at a pretty alarming rate. Miami made 54.1 percent of its shots and seemed to be above 50 percent for most of the evening. The Heat were not necessarily making 3-pointers, but they were getting to the line for 31 attempts.
Orlando's defense was not particularly bad, although the team went through stretches where Miami just outpassed and outrotated an Orlando defense that is not there all the time. This is the Heat we are talking about after all.
The Heat did not even get out on the break that much. Miami had just five fast break field goal attempts for eight points. The Magic had 27 and found their best offensive successes in pushing the pace and trying to beat the Heat down the floor.
"The gameplan was just to bring it to them," Tobias Harris said. "Don't back down and just go out there and play basketball and play as hard as we can. If we got a stop, [the gameplan] was to run right back at them and get back on defense."
The Magic were not afraid to run at or run with the Heat. That much was clear. Miami seemed content to sleepwalk through the game and ratchet up the intensity when they needed it. James struggled all night, but made two key baskets in the fourth quarter to halt Magic momentum. Orlando could not even start climbing the hill, it seemed.
Where the Magic did struggle was when they could not get out on the break. The halfcourt offense struggled once again as the team shot 41.3 percent. The Magic relied heavily on isolations -- 16 assists on 33 field goal makes -- and 3-pointers -- making 8 of 26 attempts.
Jameer Nelson began feeling it with 21 points on 5-for-8 shooting from beyond the arc. Arron Afflalo scored 16 points, but needed 16 field goals and Tobias Harris had 17 points and 10 rebounds on 7-for-16 shooting.
The Magic offense struggled to get consistency and get into a good rhythm on the floor, except in those moments when they picked up the pace. They eliminated an early double digit deficit thanks to a spurt of stops and fast break points. They just were not coming consistent enough.
Eventually, against a team like Miami, Orlando had to execute consistently in the halfcourt and get the necessary stops. They were not coming on this night.
"You have to limit your mistakes for sure," Nelson said. "When you have a team that capitalizes the way they do. When you make mistakes, they have counters for everything. They make adjustments. They do all kinds of things. They keep you guessing at times. You have to limit your mistakes."
The Magic are still making some mistakes -- many that a young team would. And against a team like the Heat, sometimes Miami can cruise and do just enough as you make your miscues and errors.